OUR VISION
To transform lives by increasing the number of living kidney donors
LIVING KIDNEY DONATION
Having a transplant is the best treatment for people with end-stage kidney failure and hundreds of lives are saved and transformed by people who are living donors.
You might make a decision immediately that you want to be a donor or have the thought; this is something I could consider doing, let me find out more about it.
Like any other interest you have, educating yourself about living kidney donation will help you come to a decision whether it is right for you or not. This site will provide you with information about living kidney donation and the living donor process.
WHY WE NEED MORE BAME DONORS
The more people from the Black and Asian community that join the organ donor register the more transplants (especially kidney transplants) can be performed for black and Asian people living with kidney disease. Organs are matched by blood group and tissue type and when a donor and recipient are from the same ethnic group they are more likely to be a closer match resulting in a successful transplant.
ORGAN DONATION: DISPELLING THE MYTHS
Everyone irrespective of age or health and who is considered legally competent can join the NHS Organ Donor Register. Joining the Register expresses a wish to help others by donating organs for use in transplantation after death but importantly, joining the Register also is a way to give legal consent or authorisation for donation to take place. This blog looks at some of they myths surrounding organ donation.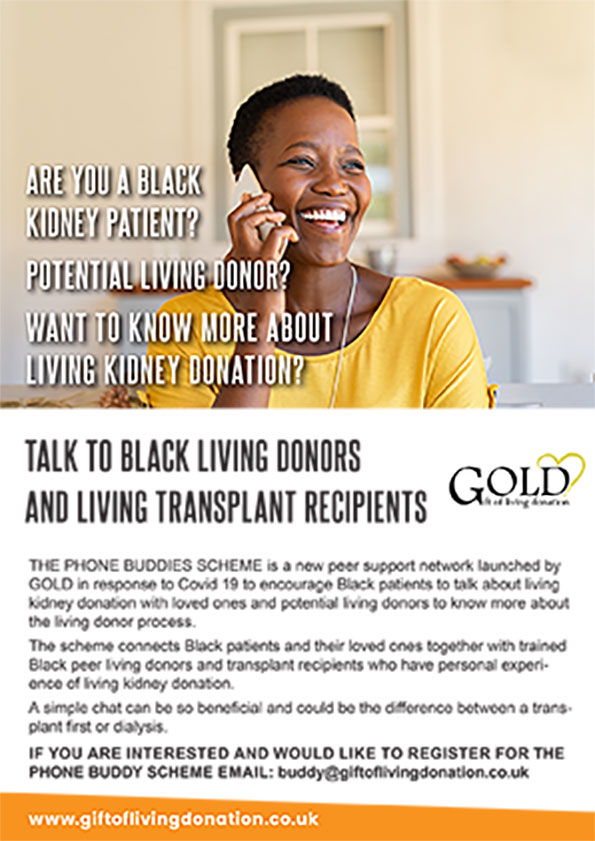 GOLD TELEPHONE BUDDY SCHEME
This is a new scheme offered by GOLD to support Black people living with Chronic Kidney Disease (CKD) and potential living donors with the aim of benefiting them from talking with Black living donors or Black transplant recipients about living kidney donation. Click here for details.


We Are Family tells the story of living kidney donation from the view point of family members. It is highly recommended for patients with kidney failure who need a transplant and want help to start the conversation of living kidney donation with their families.

Click To Buy Now
I'm Black Living Donor Campaign
GIFT OF LIVING DONATION
Support the Phone Buddies Scheme
WHAT OUR PARTNERS AND ASSOCIATES HAVE SAID ABOUT US
Thank you for sharing your book with the British Renal Society, continue your excellent work in raising the
profile of renal transplantation across all ethnic groups.-R. Fluck
As a person considering donating to a friend, your book gave me more information about living donation than my doctor
The book was fascinating, the overall message about living kidney donation will help people decide if organ donation is for them or not.
Well done! Hopefully if more people read your book, the waiting list for kidney patients needing a transplant will become shorter.
What you have clearly worked very hard for will no doubt be of great use for a lot of families. I hope the book is a great success and leads to encouraging more people to consider live donor transplantation.
This book will give people the confidence to decide to donate a kidney or any other organ to a family member or friend that needs a transplant.
Click edit button to change this text.