ABOUT US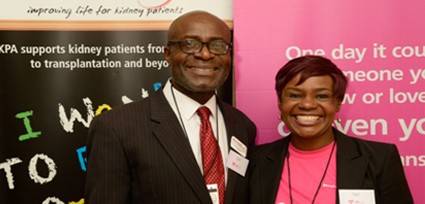 The need for kidney transplants and the shortage of donors affects people of all ages, races and ethnic backgrounds, but more donated organs are needed from people in the black community where there are over 700 African Caribbean people with end stage kidney failure on the transplant waiting list in the UK.
This figure is due to the low percentage of people from the black community on the organ donor register, and also because African Caribbean people are more likely to develop illnesses such as diabetes and hypertension, which can cause kidney failure. Living kidney donation could reduce the length of time some African Caribbean patients wait for a transplant.
How we started
Gift of Living Donation is an organisation working to promote and create awareness of living kidney donation in the community. We work closely with the African Caribbean Community where there is a greater need for more donors. It was founded up by Dela Idowu, her interest began in 2010 when she came forward as a potential living kidney donor for her brother who had kidney failure and needed a transplant. After going through several tests she was found to be not medically compatible. However; during one of the most heartbreaking moments of her life, she decided to combine her experience as a potential living kidney donor with her background in charity work to raise awareness of living kidney donation.
Gift of Living Donation have developed an educational drama film to help people learn more about living kidney donation. It's a creative resource used by patients to communicate and start the conversation with family and friends about their need for a kidney transplant and the possibility of finding a family member or friend willing to come forward as a living donor. More Than a Match, a book written by Dela, tells her story about living donation helps potential donors learn more about the living donor process. Both resources are used by renal staff within a clinical environment.
We work with charities, non-profits,churches and Government & public bodies.